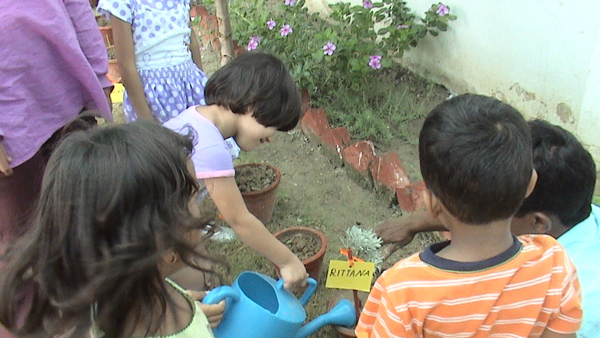 Plantation Drive - Come Garden with us !
Rittana Childrens Foundation has commenced a Plantation Drive with the children of the foundation planting fruit trees and vegetable patches on plots of unused land.The aim is to transform unused land in to community gardens throughout the community by locally growing organic food
Each child is designated one fruit tree or a vegetble patch to tend to completely from the initial planting stage to looking after it and tending to it daily
This Green initiative is aimed towards creating a direct thriple fold value ..
1. Children are vocationally skilled in the plantation process and are taught to grow their own food.This instills a spirit of confidence , learning by doing and equips the children to be able develop the basic skills of kitchen gardening, organic farming and cultivation.
2. The entire community gets involved in creating a healthy green landscape of edible food - fruits , vegetables and herbs organically grown, creating awareness of the importance of planting more and being responsible and sensitive towards our environment.
3. The nutritional requirements of children and their families in the region taken care of by this community plantation process resulting in healthier children and families and instills a spirit of economic independence within families.

The children plant fruit trees on barren stretches of land , side walks , small unused patches of land on either sides of the road and infront of homes which usually become either garbage dumpyards or end up with thorny bushes and rubble plies.Trees like Mango , papaya , Banana , Guava , lemons , grape vines have been planted by our children in their botony class.Small vegatable patches and herb gardens too have been the initiative of the children completely.
We hope to be able to slowly but steadily spread this movement with more people getting involved in our drive by taking initiatives towards planting more saplings , helping us in sustaining this drive , sponsering a part of our plantation drive , donating plants ,seedlings, tree guards, gardening equipment, taking an initiative and adopting an area to create edible landscapes and giving their time and support to garden with us !
| | |
| --- | --- |
| Education Program | Nutritional Program |
| | |
| | |
| | |
| | |