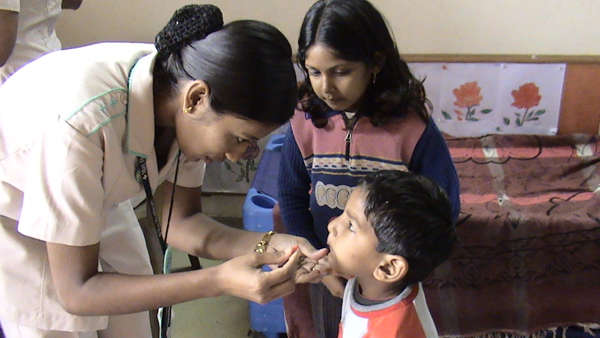 Our Healthcare Program
Health care programme: Health camps are conducted to determine the overall health of the children. Basic physical examination and health screening is guaranteed to each child by qualified teams in alliance with our partners in healthcare. This is followed by a vaccination and immunisation drive every quarter (such as Vitamin A doses, DPT, Hepatitis B, MMR, de-worming ).
Hygiene education and sanitary education are imparted in order to equip our children with basic tools of staying healthy; as they learn about hygiene in our workshops. These workshops contribute in improving a child's overall health, hygiene and living conditions and encourage development of life skills. There is a high prevalence of water and sanitation related diseases causing children in particular to fall ill or even die. Improved hygiene practices are essential if transmission routes of water and sanitation related diseases are to be cut down. Appropriate hygiene education can bring about the intention to change hygiene behaviour.
Childhood is the best time for children to learn hygiene behaviour as active participants they can become change agents within their families and a stimulus to community development. School health and hygiene education concerns all activities that promotes health and reduces health risks of school children. Hygiene education primarily aims at changing behaviour towards good or safe practices in relation to personal, water, food, domestic and public hygiene .It also aims to protect water supplies and promote safe management of environment ,in particular the management or disposal of solid and liquid waste.
Focus on mental health workshops is emphasised to work with the traumas faced by our children and to equip them to deal with their reality via counselling. The health camps additionally target parents & other family members to give the benefit of free checkups & super-specialty hospital investigations.
To further elaborate on the matter above, the funds are used for (but not limited to):
1. Basic toiletries essential to maintain hygiene – like soap, toothbrush, medicated shampoo, etc.
2. Essential food supplements, vitamins or immediate essential medicines if so recommended by our partners in healthcare.
3. Organising medical check-up camps & mental health workshops.
4. Educational material/aids or models to guide / teach on various matters pertaining to hygiene like washing hands, correct toilet training, waste disposal, etc.
5. Miscellaneous expenses relating to conducting camps and further referrals to super speciality hospitals and follow up procedures.
6. A few first aid kits and some basic emergency medicines.
7. Organising hygiene / sanitation education camps.
Healthcare cards are issued per child and a complete immunization programme conducted
| | |
| --- | --- |
| Education Program | Nutritional Program |
| | |
| | |
| | |
| | |